KAIYUKAN
ILLUMINATION
2019 11/2sat~2020 3/1sun 17:00~22:00
*Excluding closed days of January 8 and 9,2020

Kaiyukan winter illumination 2019 to 2020 features
a brand-new promenade that invites you to the world of the sea,
and an earth-shaped object expressing Kaiyukan's theme "Ring of Fire / Ring of Life".
A large display of a whale shark is awaiting your visit.
Come on! To the fantastic world of the sparkling sea, Kaiyukan.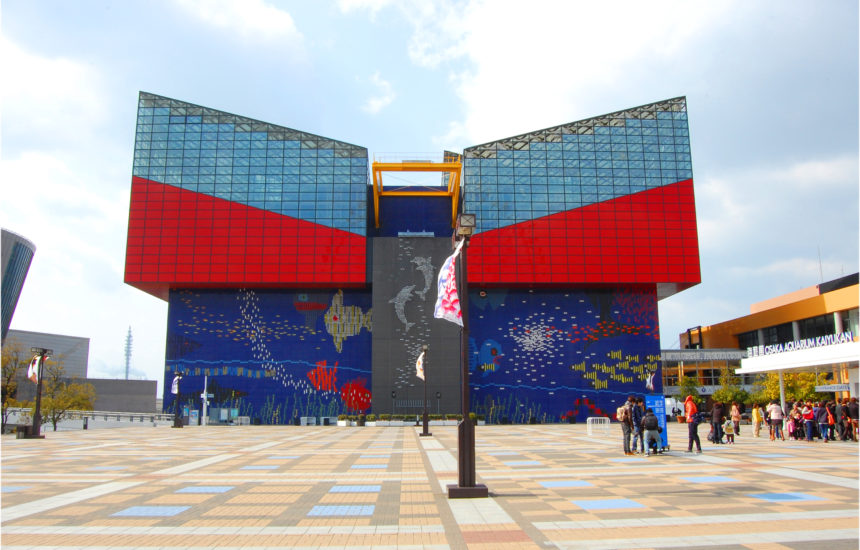 This time we're introducing to you one of Osaka's biggest pride and joys, Osaka Aquarium KAIYUKAN.
There's over 30,000 living creatures at home here.
While visitors from overseas are a given, the building is similarly targeted by locals, and even those using the aquarium as a hot-spot for dating.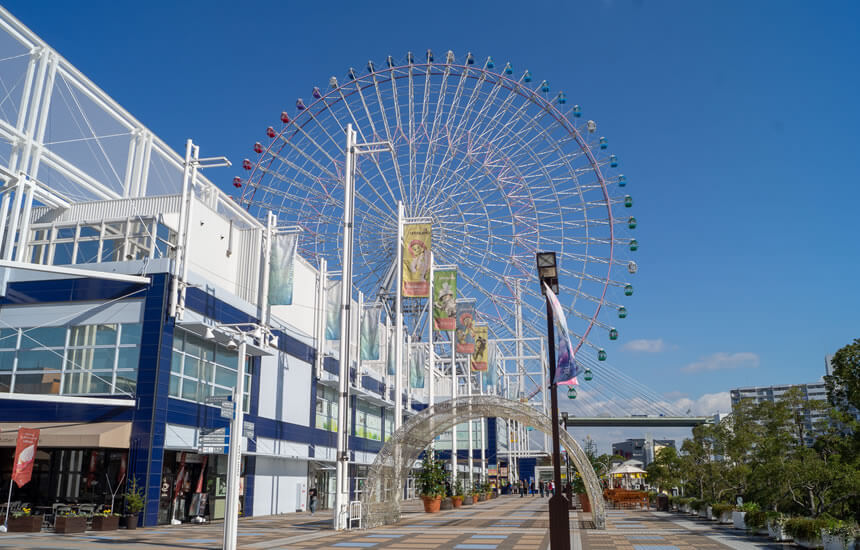 We recommend the Osaka Metro Chūō Line for accessing the "Osaka Aquarium KAIYUKAN".
Disembark from Osakako station, and make your way towards the Tempozan Ferris Wheel. Eventually you'll be able to see a building with a huge whale shark motif - just the view alone will be sure to get you excited.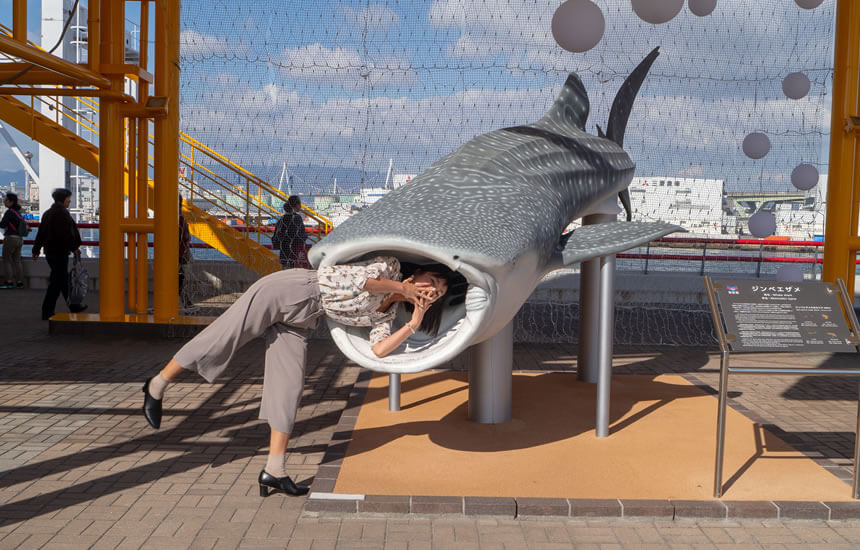 If you purchase your ticket online, then there's no need to line up and wait.
Their website is multi-language capable which will make your booking a breeze (use the QR code enclosed in you EXPLORER MAP for access).
Once you're finally inside, you'll discover the familiar sight of the whale shark motif once again.
According to the nearby staff, this is the "best place for you to take your commemorative photo,
and is also very close to being life-sized, so make sure you get up close to really appreciate the scale."
How about it? Make sure you mark the occasion of your visit in this very special spot.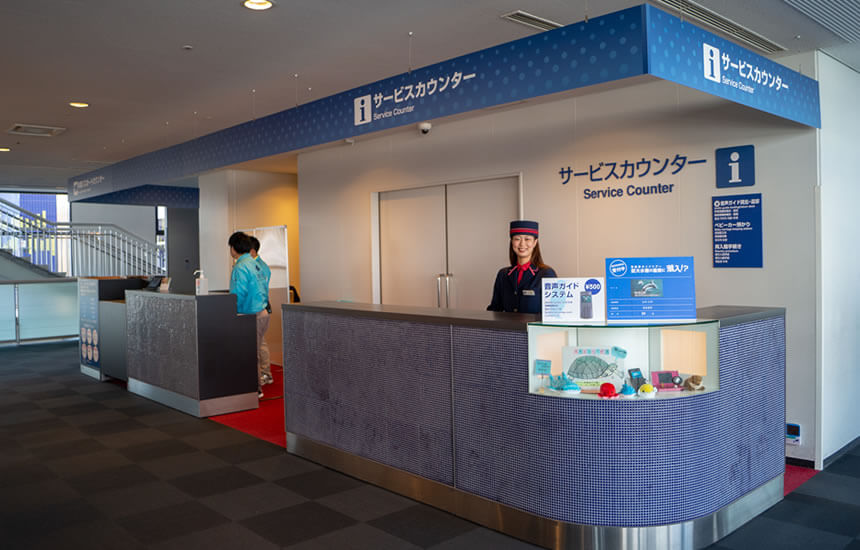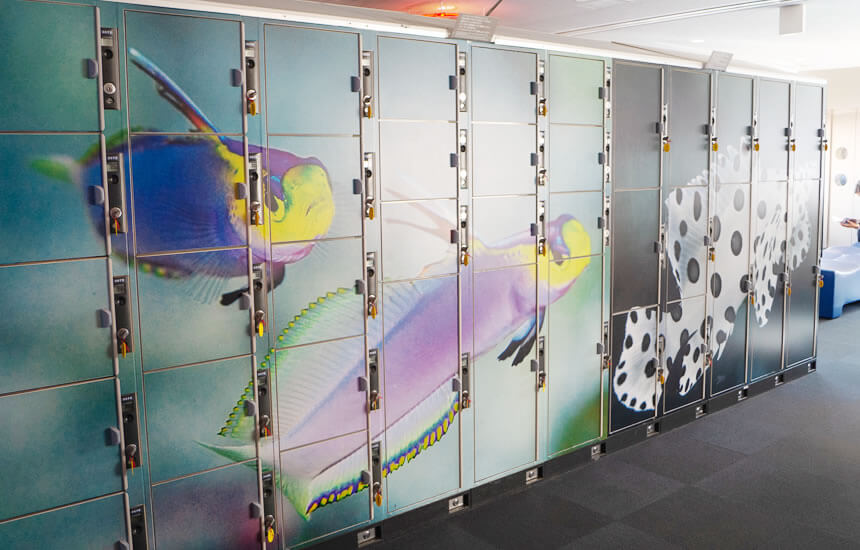 And so we enter the building, and are greeted by the sight of coin lockers. The interior of the "Osaka Aquarium KAIYUKAN" is really spacious, after all, so you'll definitely need 2 to 3 hours to get a good look at everything,
If you're carrying a lot of luggage on your person, then it's best to start your adventure with your belongings locked safely away.
The service counter is also right beside this area. In addition to foreign language pamphlets for overseas visitors, there's even voice guidance systems (for free, available in English and Chinese) which can be rented for use.
Larger luggage such as strollers, among others, can also be stored here.
And then there's a real nice surprise - show your EXPLORER MAP at the service counter to receive a very special something. So when you come to the Osaka Aquarium KAIYUKAN, don't forget the EXPLORER MAP!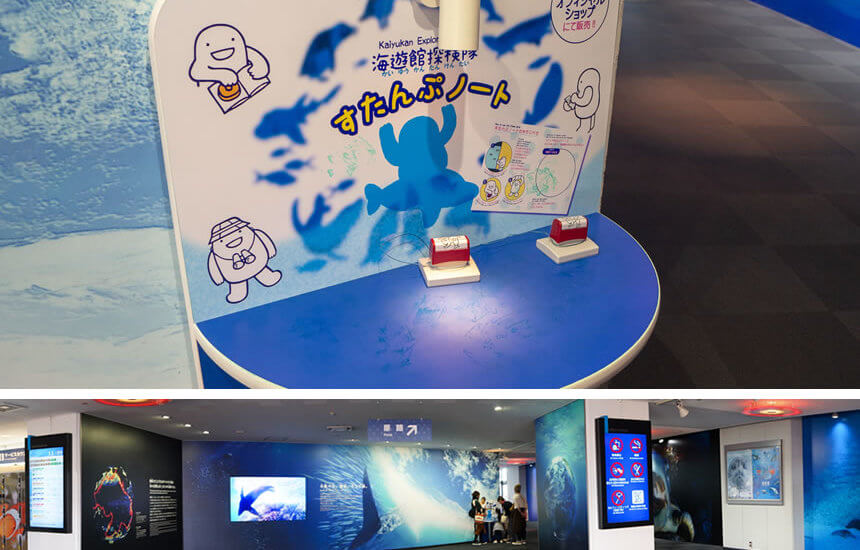 Throughout the aquarium there are 10 "Stamp spots" for you to visit and collect stamps. The special "Stamp notebook" is available to buy at the official shop. This means you can have fun with a stamp rally all while discovering the many different creatures that the ocean has to offer.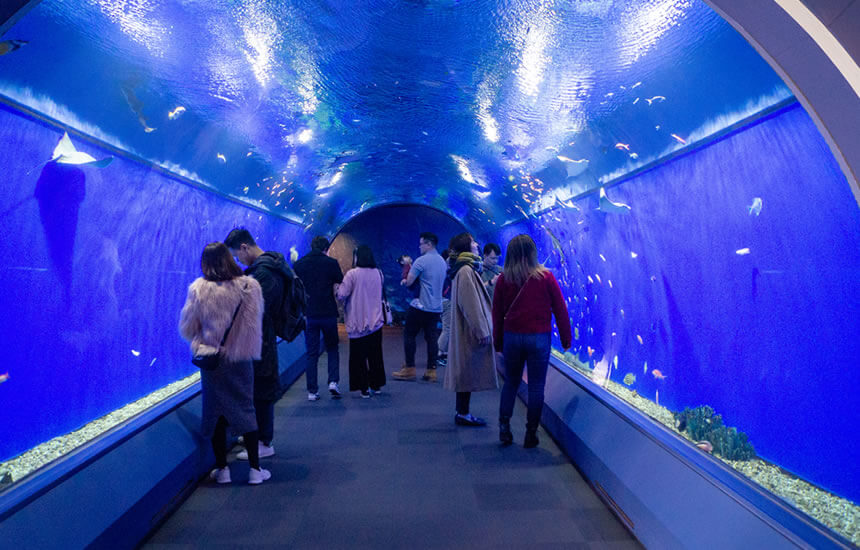 Once you're ready having put away all your belongings, it's time to set out through the tunnel known as the "Aqua Gate", and finally into the living, breathing world of the ocean.
First head up the escalator to the 8th floor and down the corridor to discover 18 whole zones, such as the "Japanese Deep", "Ecuador Rainforest", "Antarctica", the "Pacific Ocean", and "The Maldives Islands".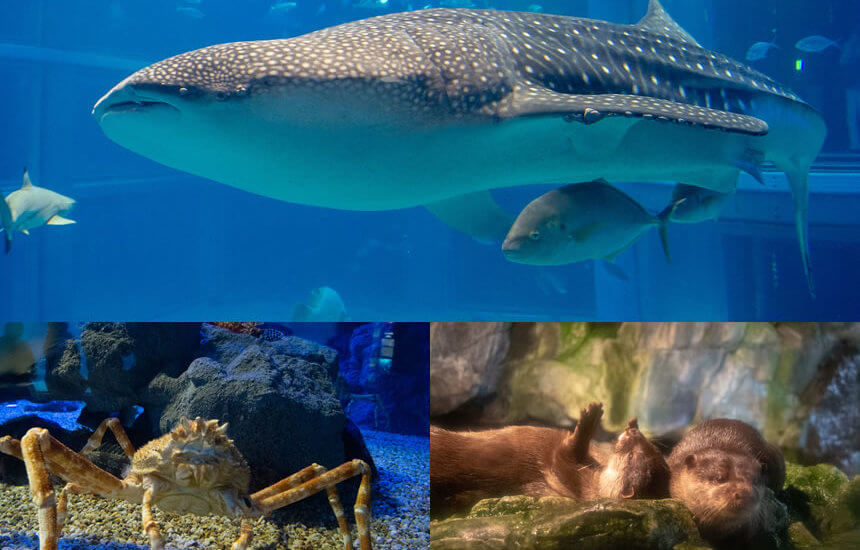 You can meet a whole abundance of creatures - the beautiful and multi-coloured tropical fish, the dolphins and otters that play around with the caretakers, the spotted seals and their adorable expressions, but it was to be said that the biggest discovery of your journey will be the whale shark.
You'll no doubt be captivated by its graceful swim through its enormous tank.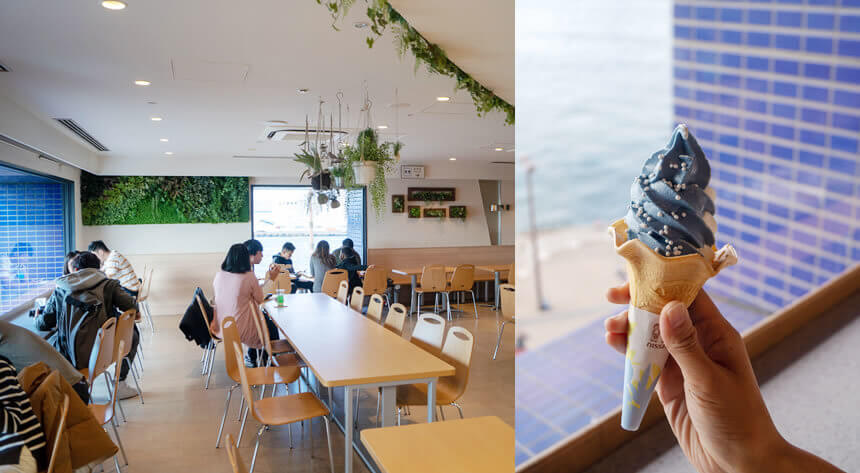 If you get tired during your adventure, you can gaze over the ocean view with a short rest at "Café Mermaid". And while you're here, you absolutely need to try the "Whale Shark Soft Serve" ice cream.
The symbol of the aquarium itself, the whale shark, is represented in its colors mixed with a striking blue (ramune flavor), making this a masterpiece of confectionery that you can experience only here.
Jellyfish drift beautifully against a backdrop of black in the "Jellyfish Galaxy", there's a whole corner where you can touch real sharks and rays. All these attractions and more are unique to this aquarium alone, and that's what makes the Osaka Aquarium KAIYUKAN so special.
Really get a feel of all of life's mysteries from countless angles and perspectives.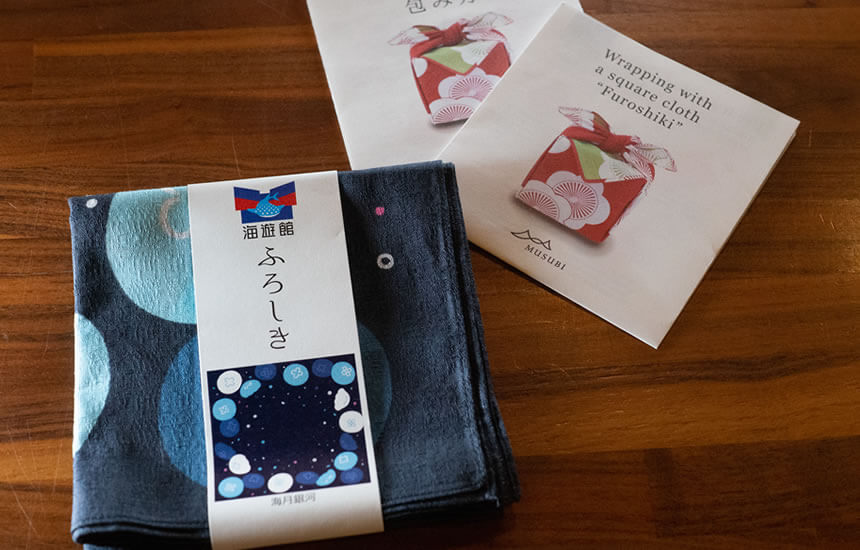 After you've done plenty of exploring, it might be a good idea to do some shopping at the museum shop.
Besides plush toys of all the animals you've seen so far, there's also a variety of Osaka specialty souvenirs such as hand towels and traditional cloth.
Information
10:00 - 20:00

Last entry / 最後入館7:00PM
No fixed holiday

About 4 days per year

06-6576-5501
1-1-10, Kaigandori, Minato-ku Osaka-shi, Osaka

(Adults(over 16 years old)/成人(16歲以上)¥2,300
Children(elementary school and middle school students)/ 中小學生 ¥1,200
Kids(4-6 years old) / 4歲以上幼兒 ¥600 ) -

Available
English
http://www.kaiyukan.com