Experience Japanese KITCHEN KNIVES at TOWER KNIVES OSAKA
Visit for a hands-on introduction to Japanese kitchen knives,
what to look for when selecting knives, how to use, and how to sharpen.
ENGLISH SPEAKING staff will guide you through the different types of kitchen knives and steels and help you find the best match for your needs and budget. The shop has a good selection of knives for home cooking, knives for professional, as well as sharpening stones.
The lineup includes knives crafted in Sakai Osaka,
and a good line-up of LEFT-HANDED knives.
Bring your actual PASSPORT for tax free shopping.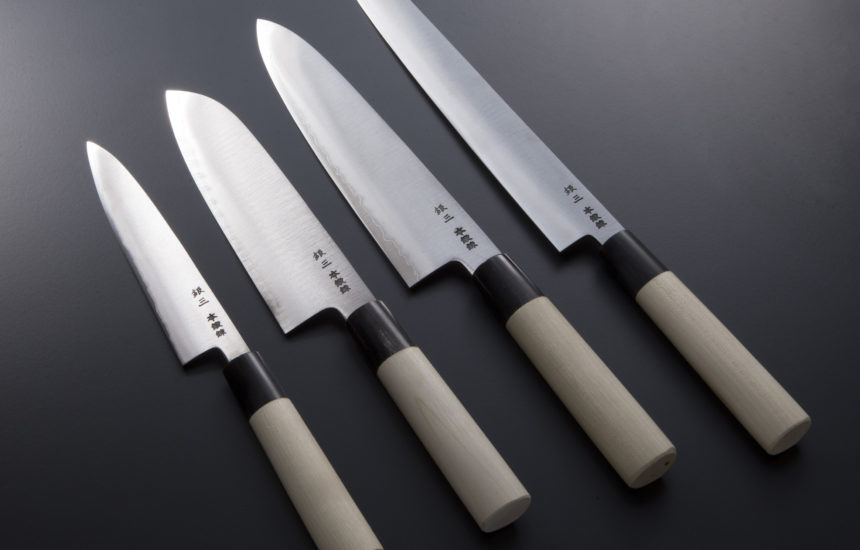 In the center of Osaka there is a place called 'Shinsekai where you can experience the old Osaka. There is a magnificent landmark called Tsutenkaku Tower, the defining icon of the area.
Located at the foot of Tsutenkaku Tower, you'll find a unique store that specializes in razor-sharp Japanese knives called Tower Knives Osaka.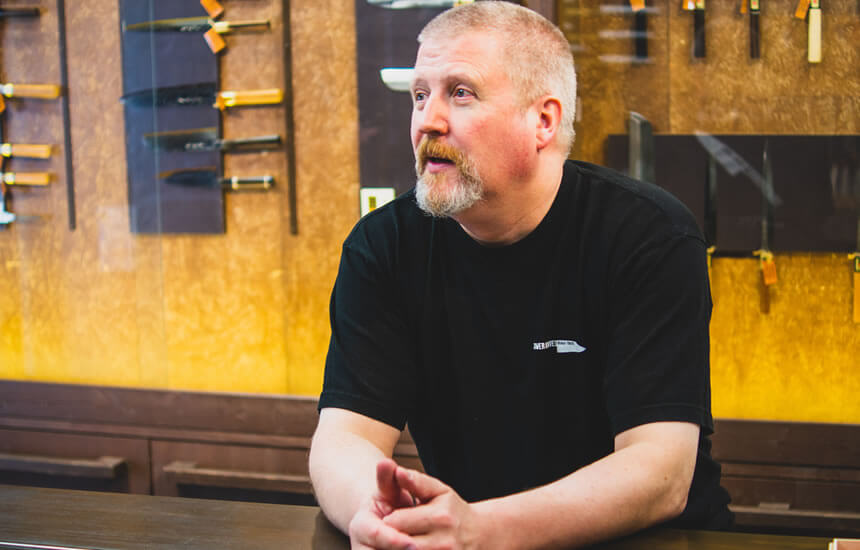 The person who runs this knife specialty store is Bjorn Heiberg, originally from Canada and raised in Denmark.
Bjorn has revolutionized quality knives in the traditional Japanese knife industry.
He is well known internationally and in Japan for his passion for high quality specially crafted Japanese chef's knives.
Bjorn met Japanese knife craftsmen while working in the knife industry in Sakai, Osaka which is an area famous for producing the highest quality knives.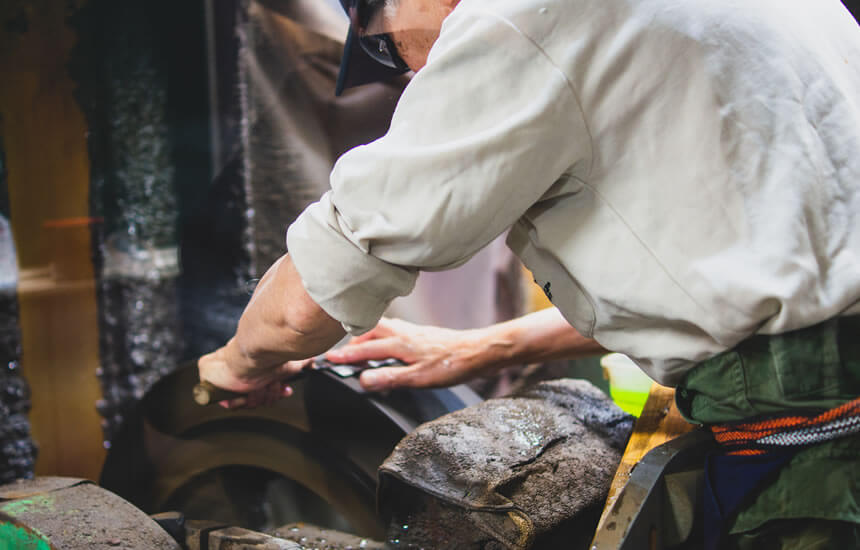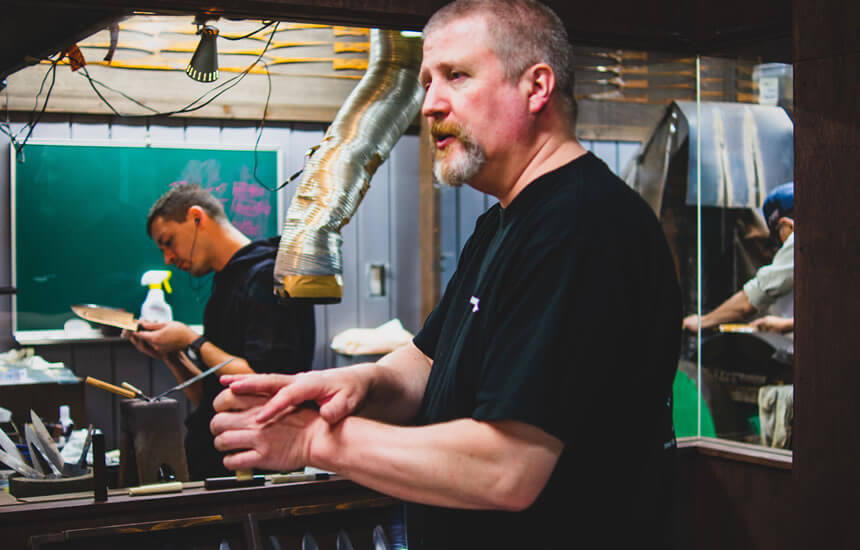 Since then, he has been attracted and fascinated by the world of knife making in Japan.
When it comes to cooking Japanese cuisine, using the correct knife is a must.
Using these superb cutting tools, the surface of the food has a smooth clean edge keeping the flavors and delicate juice inside.
Japanese cuisine cannot be created without fine Japanese knives that have been patiently crafted by the masters.
Nowadays, Japanese cuisine is common throughout the world, however, to really bring out the true essence of Japanese cooking, you must get to know the Japanese knives with your own hands.
Bjorn's passion for Japanese blades drives him forward.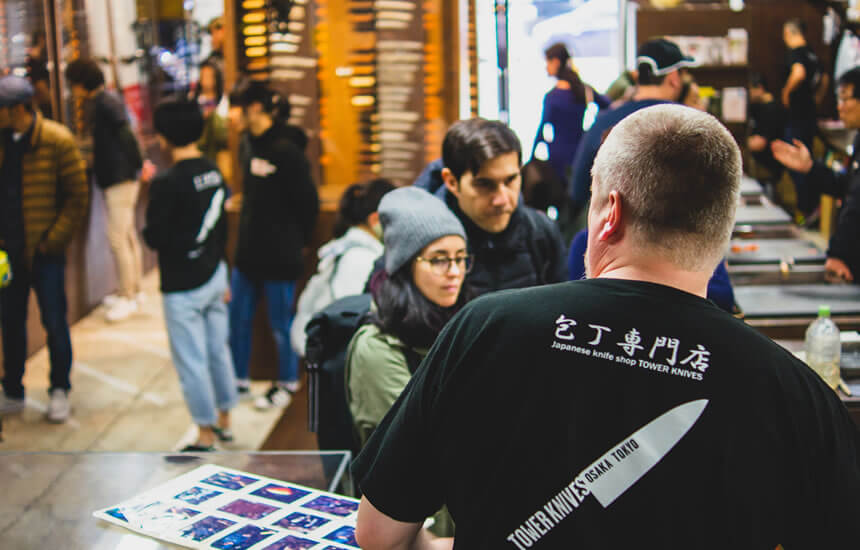 Every day his store is full of visitors from every part of Japan and all over the world.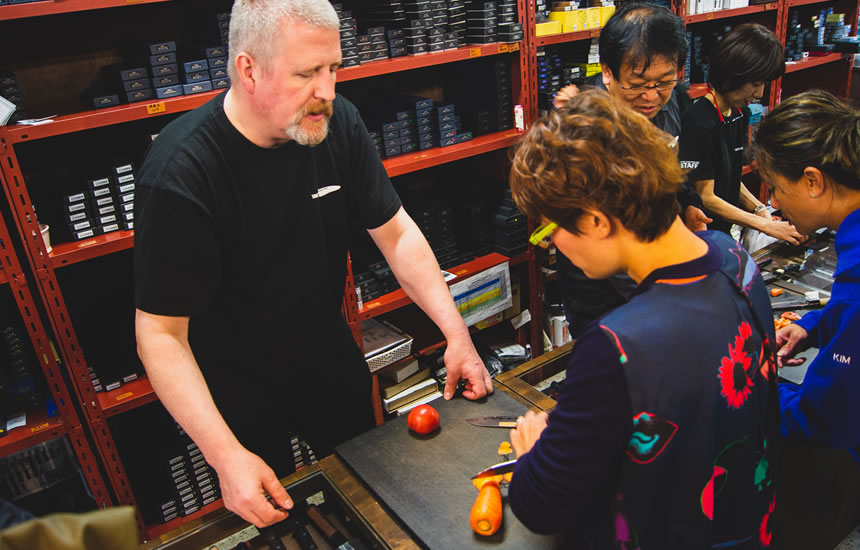 Bjorn is always at the store demonstrating to happy customers how to correctly use these tools and to let people feel and experience using the knives.
You will experience a world of difference between standard knives and fine Japanese knives when you cut vegetables. The exceptionally keen edge cuts easily and with no effort.

Information
| | |
| --- | --- |
| | 10:00 - 18:00 |
| | None |
| | 06-4301-7860 |
| | 1-4-7 Ebisuhigashi, Naniwa-ku, Osaka-shi Osaka |
| | - |
| | Available |
| | English |
| | www.TowerKnives.com |
Located in Shinsekai right next to Tsutenkaku Tower,
20min walk from Namba.